---
Introductie tabla 2
De kunst van het tablaspel is oorspronkelijk begonnen in Delhi en in de Punjab rond het begin van de 18e eeuw. De Punjab gharana (school of stijl) heeft zich vanuit de pakhawaj traditie onafhankelijk ontwikkeld, terwijl de Delhi gharana de basisideeën voor vele andere gharanas heeft gevormd. Door de behoefte aan geld en werk zijn veel tablaspelers, rond 1750, vanuit Delhi naar het oosten vertrokken, en hebben daar hun eigen ideeën ontwikkeld zodat nieuwe stijlen ontstonden.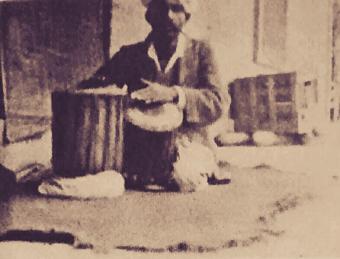 Tegenwoordig zijn er zes gharanas van groot belang; behalve de Delhi en Punjab gharanas, zijn dat de tradities van Lucknow, Ajrada, Farukkhabad en Benares, elk met zijn eigen interpretatie van techniek en repertoire.
ENGLISH: for more information on the different schools (gharanas) and styles of tabla, please follow this link from Digitabla.com... tabla tradition and the 6 gharanas

Behalve werk als hofmuzikant, dat alleen voor de allerbeste tablaspelers was weggelegd, was er in feite weinig keus om geld te verdienen. Afgezien van zo nu en dan een trouwfeest of iets dergelijks, was een goede bron van inkomsten voor veel tablaspelers het begeleiden van de nautches (danseressen, prostituees). Deze verbinding vormt nog steeds een brandmerk voor de tablaspeler en vaak wordt op hem neergezien als op iemand van de lagere klasse [6+7]. Misschien is dit een van de redenen waarom er zo weinig vrouwelijke professionele tablaspelers zijn in India., hoewel hier nu langzaam verandering in komt.

Tegenwoordig is de rol van de tablaspeler onmisbaar, en door zijn enorm kennis en virtuositeit als muzikant krijgt hij meer en meer respect, en loon!
De Indiase muziek zelf heeft ook veel stijlen en genres. Tablaspelers moeten uiteindelijk alle stijlen kennen en kunnen begeleiden. Een enorm gevarieerd repertoire is daarvoor essentieel, want elk genre heeft zijn eigen benadering en speelstijl. De tablaspeler is niet alleen een soloartiest maar moet ook de begeleiding verzorgen voor o.a. de kathak dans, khayal, thumri, dadra, bhajan, enz. Omdat het tablaspel vanuit al deze genres zeer veel aspecten van solo en begeleidingsstijlen heeft opgenomen is het een van de meest rijke en intrigerende drumtradities van de wereld geworden. Voor meer informatie over de genres zie link.