---
The Miraj Builders
The Family Industry in Miraj
A small dusty town about half a days train journey from Mumbai is world-famous for its tanpuras. It's there, located in and around the one street "Faridsahib Satarmaker Road" that I realised that the relationship between the different shops had far more in common than being mere neighbours. There is a traditional and family bond between each of the shops and it is sometimes even unclear who is actually working for who.
Much of the Indian business society is based on the family trade. We see this system all over the world where the father teaches the son through the generations. This is certainly the case with the musical instrument industry in Miraj. In my research, I discovered that there are family links with all the main instrument builders. The Miraj builders are Muslims and generally, within the Muslim community, it is very rare that outsiders can be welcomed into a family business. It is therefore quite safe to assume that even the non-blood-related students and apprentices must have married into the main family line to be able to function as builders in Miraj.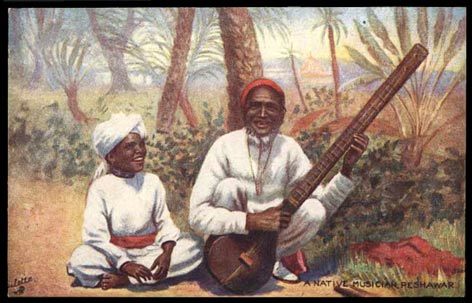 From Guns to Music
It was 1850, and the Mosque in Miraj needed some repairs done on its dome. As there were no tin smiths resident in Miraj at that time, the Raja of Miraj, Pat Wardhan Sardar, had to commission someone who could do the job. It was for this reason that weapon maker Hussainsahib and 5 of his sons, left his home at Bijapur in Karnatakar State and moved with his family to Miraj.
One may ask the question why did Pat Wardhan Sardar chose a smith from Bijapur, and not someone closer to Miraj. The answer may lay in the fact that in Bijapur there is a dome at the Gualgumbaj, which is known for its acoustic qualities, but this is only speculative.
The transition within the family from working with metal to building musical instruments started when the Raja, was so impressed with their work on the dome, they were offered the position to look after the Rajas musical instruments. At a certain point, The Raja, after seeing a sitar on a visit he made in the north of India, requested Hussainsahib's son Faridsahib to build one for him. This he did with apparently great skill using an ostrich egg as a gourd because pumpkins were very difficult to get at that time. Faridsahib the sitar builder became famous, and it is in Faridsahib Satarmaker Road in Miraj where the family industry is still located.